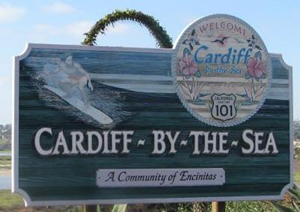 San Diego Poolman provides professional weekly pool service, repairs and installations for the entire city of Cardiff by the Sea. If you live in or around Cardiff, San Diego Poolman services your area! Feel free to contact us for an estimate or for more information about how we can help you and your pool.
Our Full Service swimming pool service plans are competitively priced and cover all aspects of pool maintenance to keep your pool clean, clear and healthy. Looking for pool repairs? We offer quality swimming pool repairs to all forms of pool equipment, pool heaters, pool pumps, pool salt systems, pool control systems, pool and spa lights. San Diego Poolman is also an energy efficiency expert, helping clients create energy efficient pool systems to save money and help the environment.

Weekly Pool Service features include:
[list blue_arrow]
Monitor and maintain water for chemical balance and sanitation.
Add chemicals to properly balance and sanitize your pool. We furnish all the chemicals so you don't have to.
Clean all filter pump baskets and pool skimmer baskets.
Monitor your filter system, back-wash the filter system as necessary and inspect pump equipment.
Brush pool steps, benches, light fixtures, spa, skim the pool surface and vacuum as necessary.
[/list]
Service rates are based on pools with working equipment and pool sweeps. Prices can vary depending on surrounding vegetation, size and complexity of pool, age of equipment, vacuuming and chemical requirements.